4th Gen High Clearance Leaf Spring Bolt Plate H3 Hummer
In stock (can be backordered)
Introducing and accepting preorders for the 4th Generation High Clearance Leaf Spring Bolt Plate for the H3 & H3T Hummer! These custom leaf spring bolt plates completely replace the factory low-hanging bolt plates GM Part Number 15295280 and 15295279 that hold the axle to leaf spring. The HCLSBP increases the ground clearance and protects the shock mount from getting ripped off the vehicle when off-road. The custom-length U-Bolts are recessed and hidden inside the 1 and 3/4-inch tubing protecting them from damage when bottoming out. The base plate is a laser-cut 3/8-inch thick steel for superior strength. The torque specs for the U-Bolts and the shock bolt are laser-etched right on the part for quick reference. On top of the High Clearance Leaf Spring Bolt Plate is the measurements for the custom U-Bolts in case replacements are needed. With the 4th Gen Bolt Plate, the lowest point becomes the leaf spring pack supporting the weight of the H3 or H3T Hummer. While not required, but intended to be used with 2″ longer shackles, these mounts eliminate all the issues with the factory leaf spring bolt plates.
4th Gen improvements begin by making the brackets even stronger than any previous generation. Starting with a 3/8-inch thick base plate for unmatched strength. The 4th Gen Bolt Plate is completely boxed for improved rigidity to keep improving upon the strength even further. The holes where the U-Bolt are threaded through are cut oblong giving it a plus or minus 1/8-inch of extra clearance ensuring an even easier installation than in the previous generations. The U-Bolts nuts and threads are even further protected from damage up inside the 1 and 3/4-inch tubing. With previous generations issues with dimensional stability was an issue due in part to the number of bends in a single part. Gen 4 has none of those issues results in a more dimensionally accurate final product for the customer. Finally, minor adjustments were made to the shock mounting location, along with a thinner overall profile to improve the clearance issues for a better fit and improve the functionality.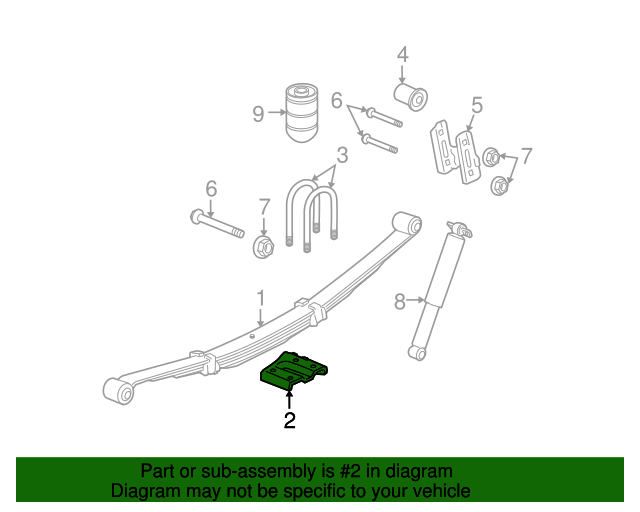 The reason for creating the 4th Generation is because my ability to design and manufacture parts has improved significantly over the years. This resulted in wanting an even better-designed than previous generations part getting bolted onto the H3 & H3T Hummers. While I wish that this part was CNCed from a solid chunk of steel, this is the compromised alternative that the Bolt Plate can be produced at an affordable cost. These 4th Gen bolt plates are an improvement in every aspect of the previous generation. Except for the cost to produce the 4th Gen Leaf Spring Bolt Plates is high. However, I promise the price to value is worth the cost.
Complete Parts List Includes
4th Gen Driver Side Leaf Spring Bolt Plate (Quantity 1)
4th Gen Passenger Side Leaf Spring Bolt Plate (Quantity 1)
Custom Length U-bolts with Washers & Nuts (Quantity 4)