Update – February 10th, 2013
This post has become dated, and no longer reflects my views now. Defelice Off-Road skid plates are basically non-existent at this point in time. In response to that I have designed my own heavy duty skid plates for the H3 Hummer and sell them at a lower price point. While Defelice's winch bumper is great, I now know there is room for improvement and have developed a new winch mount that leaves your H3 Hummer front-end looking completely factory, yet hides a winch. The winch will be hidden behind the front grill right on top of the frame rails. This allows for better access to the spool along with an inexpensive price point. I strongly recommend not buying torsion keys lift kits for you H3 Hummer. Torsion key lifts for the H3 Hummer are completely pointless and are not needed at all. I raised the front of my hummer 1.5″ inches by just tightening the bolt on the torsion bars, keep in mind you need a front-end alignment after doing this.
Now back to the orignal posts
So this post ends my back to back to back posts of the H3 Hummer on how I have become addicted to this SUV. Recapping a bit, the first post "H3 Hummer" was a kind of a emancipation of me from my Jeep where I was cutting all the strings between us. Yesterday, "H3 Specs" was a declaration of all the mistakes I made with the past gover-I-mean-aaa-Jeep and how I wasn't going to repeat them with the H3. Which leads to only one point today. "H3 Preformance" is all about the parts that will allow this Hummer to reach for the sky and beyond but don't be quick to judge because this list is short and sweet.
Keeping in mind that Less is More.
First things first, all respectable rigs have one key thing in common, and that thing is a big powerful winch. Since this is going to be a respectable rig I have found the Defelice Off-Road Innovations winch mount is prefect for me. For starters the winch is protected behind the winch mount from mud, rocks, and basically a good portion of all weather. I also like how for the most part the bumper remain factory only beefing up the parts that need to be. Finally when I talk to the creator of the Defelice Off-Road Innovations winch mount he told me that the winch is positioned in such a way that it is alined perfectly for a straight pull from the winch and maintains great factory approach angles. As for what type of winch I want to go with, all have to say is that I'm undecided but I really like the Warn Winch Wireless Remote Control setup.
Continuing on with the Defelice Off-Road Innovations parts I need to protect the drive-train and other vital parts from damage with their skid plates. The two skid plates that they produce is just pure beef with the ability to support the the entire weight of the H3 any where on them. All the bolts are conveniently recessed so not get chewed up or ripped off when the H3 is dragging it's belly on rocks. The skid plates are a bit harder to come by because you have to get a hold of the guy by phone or email to get these two plates, which is why they top of my list. Check out the write up on the bummer and skid plate being installed  here.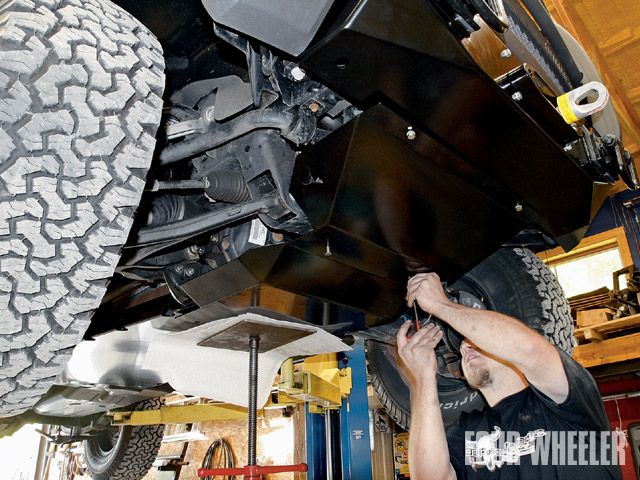 Next up is very mild lift so that I can clean fit 35 inch tires and gain extra little bit ground clearance, 1.5″ the front and 1.25″ out back. The best part is that the lift kit is not necessary to fit the 35″ tires so I can hold off for practically for ever, even though it is dirt cheap. All the kit includes is a a couple torsion keys, two shock extenders, and two extended shackles for the rear leaf springs.
The finally two thing on my list may not be required at all because it should be equipped from the factory on off-road edition H3's. I'm speaking of the factory sliders from Hummer to protect the rocker panels on the H3 and the factory bull bars in picture above. But I guess you could say that I'm not done yet because I can't forget about the tires, but all vehicles need tires. Since I brought it up though, I find myself really liking the 35 inches tall General Grabber tires.
That is everything that I want for my H3 Hummer if I can get one. Only 5 possibly 7 upgrades to buy. Short sweet and effective.
Cheer's to my dream H3,
"Less is More."